Maharishi AyurVeda Mother-Baby Program
The Healthy Happy Mother Baby program provides a wonderful beginning for families based on the traditional time-tested knowledge of Maharishi AyurVeda.
Specialized consults are provided from preconception through pregnancy, labor & delivery, and the post-partum period. The nourishing home care program following delivery, facilitates the best start for baby and supported recovery for the mother. The potentially stressful months after delivery can be turned into a compassionate, blissful experience for the entire family.
The Healthy Happy Mother Baby (HHMB) course is offered both to Maharishi International University students in the Bachelors in Ayurveda Wellness and Integrative Health degree program, as well as other interested licensed healthcare providers. This course was developed by an international team of experienced obstetricians, gynecologists, pediatricians and nurse practitioner, as well as Ayurvedic physicians from India.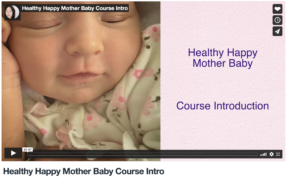 For more information on the course and the HHMB program contact:
Margaret Mullins MSN, PNPC, FNPC

MIU adjunct faculty for the course

National Director HHMB program-US

828-265-3547

mmullins@miu.edu